Disclosure
This post or any social media messages are for general information purposes. This information is not considered a consultation and is subject to change at any time. Adrian James Menezes and AJM Canadian Immigration & Citizenship Services Inc., is not responsible for any errors or updates for the information shared. You agree to voluntarily: follow, like, share or subscribe to our services. In addition, you agree to read and accept our Terms of Service. In other words, do not use any of the services if you do not agree to the Terms of Service.
Do you have an Immigration plan?
The Government of Canada welcomes immigrants through its various streams. For instance, under the Economic, Family, Refugee and Protected persons, Humanitarian, and others. As you read this post, I would like you to think of your Immigration Plan.
Above all, you need a plan to achieve your goals and objective. As per the 2021 Annual report to Parliament on Immigration, the Immigration, Refugees and Citizenship Canada (IRCC) has provided its plan.
IRCC has also informed Parliament and Canadians related information on immigration to Canada.
It is no secret, wherever you are in the world you or someone you know has either immigrated to Canada or is looking to immigrate. Canada is a land of immigrants that welcomes people from across the world.
It is also the home of the Indigenous Peoples in Canada, who are suffering, learning about their past and trying to pass on their culture, traditions, language and way of life to their next generation. These are the original inhabitants of the land that is now Canada.
The Pandemic
The pandemic has impacted us directly and indirectly in some way or the other. This has been no different for all the people who are waiting for their immigration updates. Countries have closed their borders which has caused significant impacts.
The various government restrictions, curfews and limitations has causes barriers for individuals, asylum seekers and refugees. This has also made their journey more challenging and still is.
International students who have paid thousands of dollars to study in Canada had to transition to online class. As a former instructor for The University of Winnipeg, I know the challenges students face.
Various news outlets have covered the mental stress, students are facing, and the faculty and college are only increasing tuition and other costs despite having an online learning. The economy is taking a hit, people and businesses are feeling the price increase.
In Winnipeg, many businesses had to close due to quarantine measures and restrictions. This is no different in other provinces. Immigrants are working in those very establishments which are closed. Some of them are still closed. The immigrants who made their way to Canada now have to figure out how to pay their bills.
The ripple effect was that due to various closures of land borders and crossings, some permanent residents and temporary residents were not able to travel overseas or even return to Canada.
The Response
It is in challenging times; we learn to overcome our differences and find ways to be more efficient and effective. In response to the COVID-19 challenge the IRCC has been innovative in their operations and in their programs and policies some of which are:
It enabled its employees to work remotely and established a virtual client support centre.
Introduced Temporary program policies to mitigate the ongoing pandemic.
Prioritized processing of temporary residents who perform essential work.
The in-person interview was waived to confirm permanent residence status.
The permanent residence confirmation portal was implemented for applicants in Canada towards their online verification requirements.
These are some of the responses IRCC has taken to address the ongoing challenges and I am sure many people are thankful for the steps IRCC has taken along with their proactiveness. There is always room for improvements along with finding new ways and solutions.
Francophone Immigration
The Government of Canada is bilingual. All government websites are accessible in French and English. We normally speak English and like myself, I have limited knowledge in French. In fact, the English-speaking population in Canada significantly overtakes the French-speaking population.
According to the 2016 Census from Statistics Canada: a whopping 75.4% are English-speaking compared to 22.8% French-speaking population as a total population across all provinces and territories.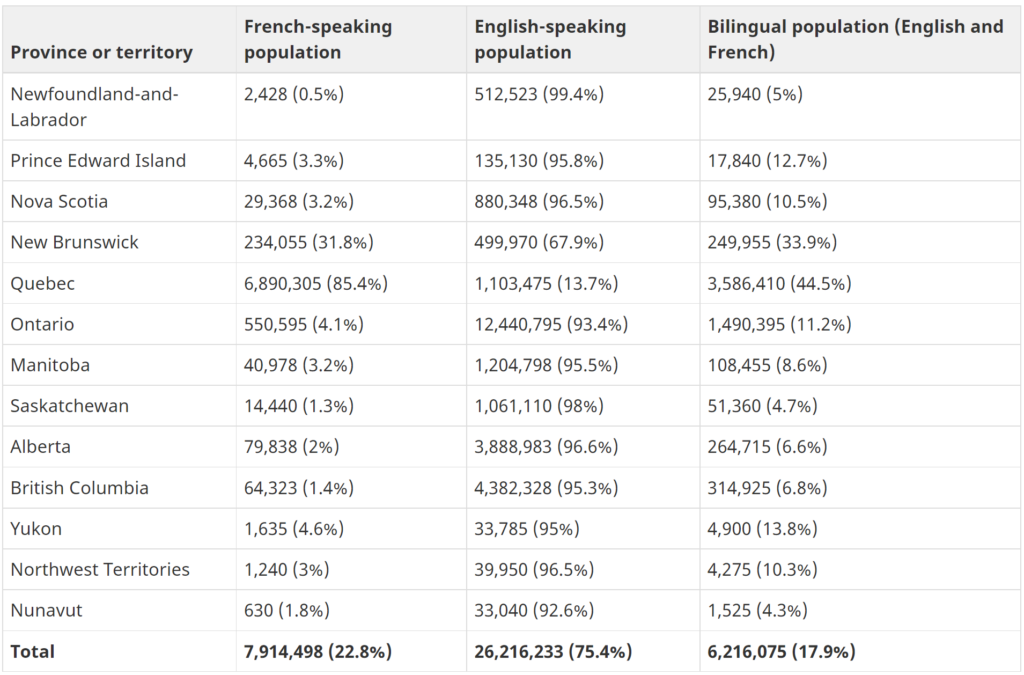 Firstly, there is a need for the IRCC to increase Francophone immigrants outside of Quebec. Secondly, they have set their goal to reach 4.4% of French-speaking immigrants outside of Quebec by 2023. Thirdly, for the year of 2020, 5756 French-speaking permanent residents were admitted to Canada outside of Quebec.
We talked about innovation earlier and IRCC held virtual information sessions and webinars due to the pandemic. They held over 230 events and delivered 810 outreach activities.
The Rolling Immigration Plan
We discussed some context about the pandemic and the innovative measures used. I shared some statistics of the language speaking population. We will now briefly talk about the multi-year immigration plan for the years of 2022, 2023 and 2024.
Having this visual gives us an idea on Canada's commitment, vision and objective.

Notes: The partial reproduction is a copy of the version available at 2021 Annual Report to Parliament on Immigration where the original document is available.
These projections speak for themselves. Similarly, it clearly shows Canada's dedication and determination on welcoming immigrants across the world. Comprising the overall permanent resident admissions, IRCC has an astounding goal some countries can only dream of.
For the year of 2022, they have a plan to achieve a target of 431,645. Increasing it even further for the year of 2023 to a target of 447,055. To close the year of 2024 a record breaking 451,000. As a result, many people from around the world will be looking forward to Canada's immigration.
What is your Immigration Plan?
There are many avenues available to immigrate from economic, refugee, family reunification, protected persons, humanitarian and others. What is your Immigration Plan?
Be aware there are a lot of scams, false promises made, assurances or guarantees from various persons and organizations on Canadian Immigration. DO NOT TRUST THESE SOURCES!
In other words, REMEMBER NO ONE CAN GUARANTEE YOU A VISA, WORK PERMIT, PERMANENT RESIDENCE OR APPROVAL.
In conclusion, I would like to bring awareness on what options you have available and request you to contact me through my business AJM Canadian Immigration & Citizenship Services Inc., for a paid consultation to discuss your Canadian Immigration or Citizenship options.
I am an authorized representative who is a member in good standing of The College of Immigration and Citizenship Consultants (the College) and licensed to practice as a Regulated Canadian Immigration Consultation (RCIC). Therefore, only those who have been authorized and approved can use the title RCIC. For instance, you may verify a Canadian immigration consultant's status for any person anywhere in the world by clicking on the Find an Immigration Consultant link.
My company
AJM Canadian Immigration & Citizenship Services Inc., operates under the direction of Adrian James Menezes, RCIC, with membership #R709173 who is an authorized representative.
I may assist you with options on the immigration program. During this time, prepare, complete, review and submit your immigration or citizenship application. Subsequently, explain and give advice on your immigration or citizenship options. In addition, communicate with the Government of Canada on your behalf.
Visit our virtual office ajmcanadian.com and contact us. We are based in Winnipeg, Manitoba – Canada, provide our services globally and proudly support diversity.
Please leave a comment, follow, like, share our social media. Subscribe to our newsletter.
Sign up for our newsletter by clicking on the link or use the QR code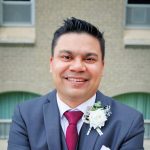 About the Author:
Adrian James Menezes is the Founder, President & CEO of AJM Canadian Immigration & Citizenship Services Inc. His business provides Canadian Immigration and Citizenship services. Adrian is passionate about immigration and loves to share his thoughts on the blog to create awareness and provide information. He also provides management consultancy, business products and tools for people and businesses to achieve more in his other business IT'S ONLY HONEY INC.